What are the top 11 best features to look forward to in iOS 11?
The release of iOS 11 is just around the corner. I know you are anxious to learn what new features will be available. Apple has made many improvements while adding new items in iOS 11.
I will take you through the top 11 best features of the new iOS 11.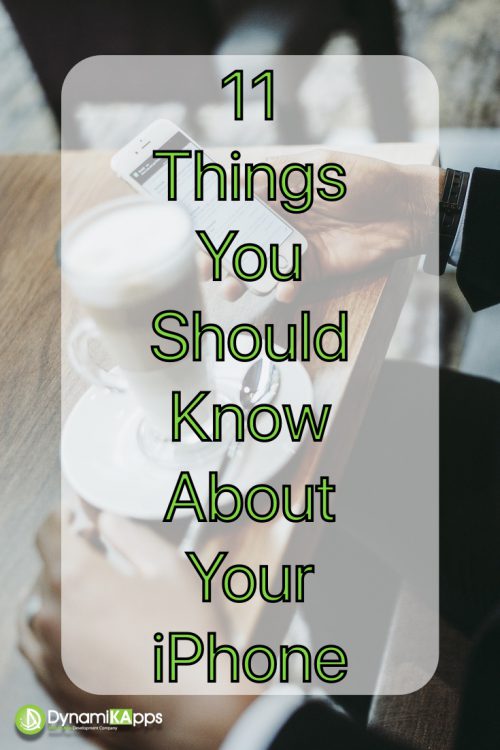 1. Siri Improvements
Siri is one of the features Apple continues to improve. Siri has now become smarter, which makes your life much easier.
You'll notice in iOS 11 the more natural sounding male and female voice of Siri. In addition, Apple has given Siri a new user interface that displays multiple results per your request, as well as follow-up questions. This new interface even allows you to edit your voice request with text input.
Siri can now learn from you and is able to anticipate what you want and make suggestions before you ask.
Per Apple, everything is encrypted, so your personal information remains private.
One of my favorite new Siri features is its' ability to translate phrases for you. Siri can translate English to Chinese, French, German, Italian, and Spanish. More languages will be added in the coming months.
2. Customizing Your Control Center
The control center has some exciting changes coming to iOS 11. The redesign looks simpler as the control center now exist on a single page. It will have sliders and key functions that users can customize to their own liking.
This means you can add your own button functions to the control center screen, which includes the default functions.
In addition to the default toggles such as Wi-Fi, Bluetooth, and airplane mode, you are now allowed to add up to 18 additional options to your control center panel.
The current iOS 10 control center has two panels which you have to slide left to right or right to left in order to access all the controls.
iOS 11 now brings all the controls to a single screen and relies more on 3D Touch.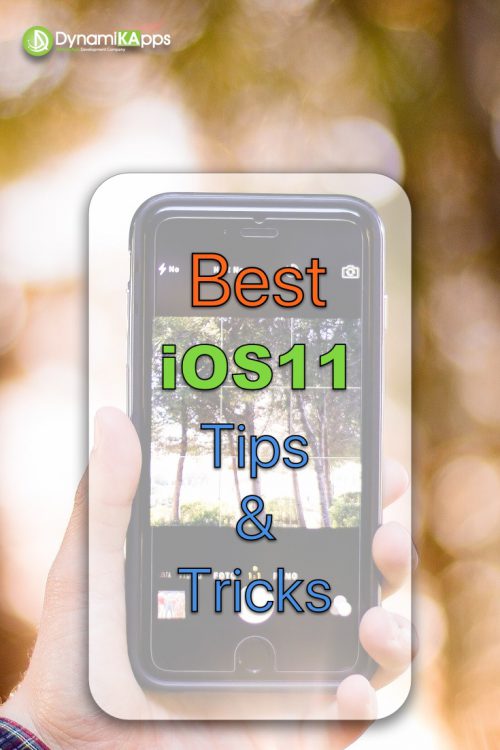 This makes a more clean and simplified look and a better user experience.
3. More Fun with Live Photo
The live photo feature is better and more powerful in iOS 11. The new editing tools allow your photos to be more expressive and creative.
This allows you to turn a live photo into a fun video loop or long exposure.
A very cool feature.
Long exposure helps you create beautiful photos known with high-end professional cameras.
Also, there's an amazing bounce feature which makes your live photos rock back and forth. The still photos in iOS 11 will use a new photo format called HEIF high efficiency image format. According to Apple, this format will take only half the space compared to the previous image format.
4. Do Not Disturb While Driving
In today's world of mobile devices, we are constantly distracted by text messages and notification alerts. Receiving alerts while driving can be distracting and very dangerous.
In iOS 11, Apple introduces "Do Not Disturb While Driving". This feature allows your iPhone to sense when you might be driving and prevent you from being distracted by calls, text messages, and notifications.  It does this by using Bluetooth and/or motion sensors to figure out if you're driving.
This feature can also be activated manually via your control center. In addition, you can go into your do not disturb settings to set up automatic response messages to all your incoming text. This will let people know that you are driving and you will get back to them as soon as you arrive to your destination.
There are additional settings that can be set for emergencies when you need a message to be sent, even if your phone is set to do not disturb.
 5. Maps Indoors
Have you ever arrived to a location and got lost while trying find your way around?
The Maps in iOS 11 will use your map to help you navigate your way around indoor spaces. Whether you're going on a new adventure or just searching for the nearest coffee shop, Maps will make navigating through these spaces a lot easier.
The new airport feature on Maps takes the familiar 3D map view and moves it indoors. While in an airport, you can see all the stores, lounges, security checkpoints, terminals, and more.
The Maps will include major airports and shopping centers around the world.
At launch, Maps will have indoor support for malls in:
Boston
Chicago
Hong Kong
London
Los Angeles
New York
Philadelphia
San Francisco
San Jose
Tokyo
Washington DC
Maps now helps you avoid missing a turn or exit by showing you which lane you should be in when navigating. You can also see the speed limit of the road you're on so you have no excuse for speeding…just kidding.
6. Better Notes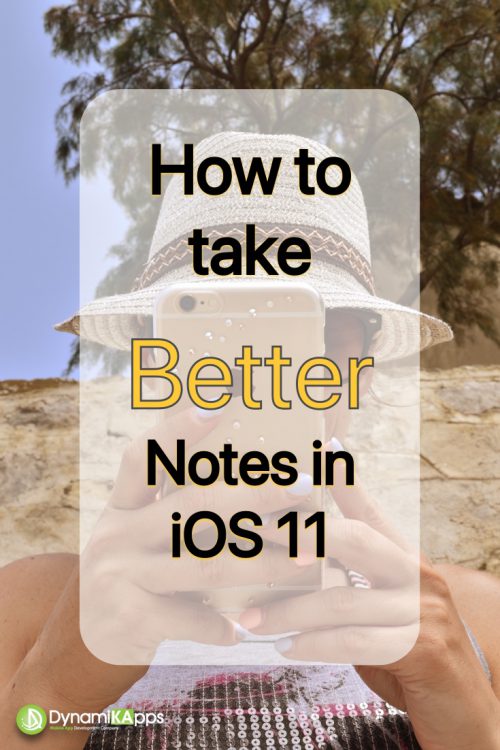 Notes is the app that Apple continues to improve on in every iOS version. You will now find several new features including:
Support for drag-and-drop
A built-in scanner
Mark up tools
Ability to add tables to your notes
In addition, the iPad will allow you to press the plus sign to access an all new document scanner. You can scan several documents at once, automatically cropping the edges, removing any tilt or glaring and applying different filters. The scans can be saved inside your notes, and you can export them as a PDF file that can be signed and shared easily.
Another great feature that iOS 11 brings to notes is the ability to search for things you've written out by hand.
 7. Apple Pay's in Message
In iOS 11, apple brings the convenience of Apple Pay to Messages. This feature will make it easier for you to send money or receive money from friends. Now sending money to friends or receiving money from friends is simple as a conversation.
You can use Apple Pay with your credit or debit card to send money instantly and securely right in Messages.
You can also request and receive money just as easily. The cash will exist in a virtual card called the Apple Pay Cash Card which exists within Wallets.
Wallets, is another built-in Apple app for storing credit cards, debit cards, boarding passes, tickets, and more. When you get paid, your money is kept securely in Apple Pay Cash. It is available for you to send to someone or spend in retail stores that accepts Apple Pay on the web, or transfer to your bank account.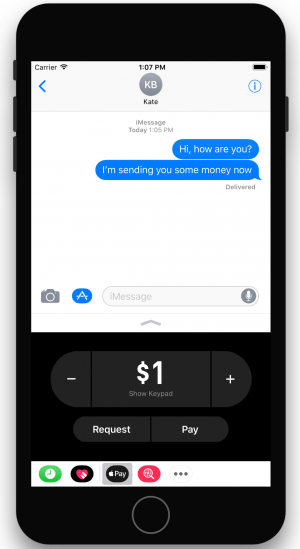 8. QuickType Keyboard Improvements
Have you ever tried texting on your phone with one hand with a cup coffee in the other hand?
Back in the days of the iPhone 4S the screen size was only 4 inches. This made multitasking much simpler. Now we have phones with 4.7 and 5.5 inch screens, so typing with a single hand is a bit of a challenge.
Apple has provided a great solution with the quicktype keyboard. The quicktype keyboard makes it easier for you to type with one hand.  You can simply touch and hold on the emoji key. Select one hand typing and the keys will instantly move closer to your thumb.
You'll now notice three new icons lined up alongside the bottom of the menu. These new icons let you move the entire keyboard to the left or to the right of the screens making typing with a single finger much easier.
Interestingly enough, the keyboard shrinks to the same size keyboard as the iPhone 4S which is a 4-inch size screen phone. When you want to return to the normal size keyboard, just tap the emoji key again, then hit the middle icon at the bottom of the menu.
One last thing to remember is that this feature will only be available for the 4.7 inch screen iPhone models and larger.
What's new for the iPad?
9. Drag-and-Drop on iPad
One of the much-anticipated features that is finally on the iPad is the drag-and-drop feature.
Apple has made it very simple for you to simply drag and drop items such as text, photos, URLs and files from one app to another. This feature utilizes the large multi-touch display on the iPad and makes moving items simple and fun.
For example, you can drag and attach images from photos to mail or drag and copy and paste directions from Safari into Maps.
Even better, you can grab multiple things at once. They don't even have to be in the same vicinity.
One of the special features of multi touch is the ability to drag items better than a desktop. On a desktop once you click on the item to move around you're not able to interact with any other item on the screen.
When using multi touch, once an item on the screen is selected you can interact with other items on the same screen of the iPad. The bottom line is that you can touch and move just about anything to anywhere on the screen.
10. New File App for iPad
The new Files app brings all your files together similarly to what you would expect on a desktop or notebook computer. You can easily browse, search, and organize all your files in one place. Now, there's a dedicated place for your recent files.
The amazing thing about this feature is that it's not just the ones on your iPad, but also those in apps, on your other iOS devices, in iCloud Drive, and across other services like Box and Dropbox.
You'll notice the classic nested folder structure.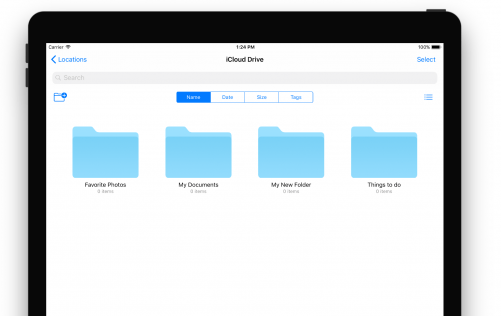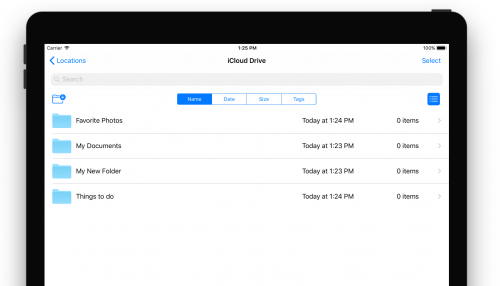 Tap on a folder and then tap and hold in an empty space to create a new folder. Once inside a folder you'll see files and folder in a grid view – with icons for all folders and files. If you prefer, you can switch to the list view by swiping down in the folder view and tapping the list view button.
List view displays more details – file size, modified date and a shortcut to download file. As I mentioned before, one of the biggest features in iOS 11 is the drag-and-drop and how intuitively it works across the entire OS and individual apps.
This feature is key on how you interact with the Files app. You can use this feature for file organization inside the Files app and to move files and documents to and from other apps. You can also preview file types like images and text files right inside the app.
If you have the corresponding app installed like a pdf viewer, tapping on the file will directly open it in the associated app. In addition, you can also preview zip files in File app. These are a few of the great feature to look forward to in using File app on the iPad.
11. New Dock for iPad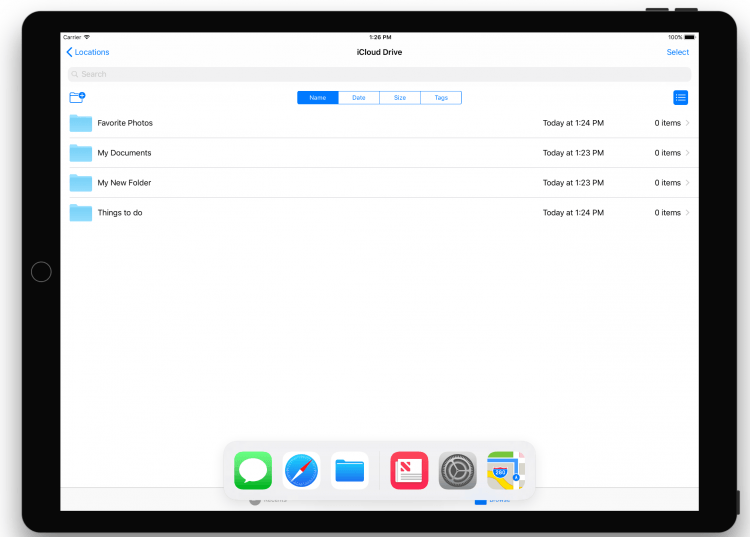 The new Dock is a ground-breaking change for iPad. It's now available from any screen you are working in, similar to what you experience using Mac OS on a MacBook.
A simple swipe can open and switch apps instantly. The dock now holds up to 13 apps (landscape or portrait). The right hand of the dock has three positions which it saves for recent apps. The Dock also changes as you work by intelligently suggesting apps similar to the ones you recently opened.
I hope this article helped you understand the new iOS 11 update for Apple users.
Let's make great things happen!
Handy