Exercise at Your Work Desk
For those of us working in the tech field, it's not uncommon for us to lose track of time and end up sitting down for hours without standing up. I know sometimes we get so caught up in our work, 10-minutes can turn into 3 to 4 hours.
In cases like this, it's important to remember you're as good as your mental and physical health.
Let's run through a typical day of working a 9 to 5 shift from your home office. Let's start with what you need to stay active and hydrated around your workstation.
One 16-ounce reusable water bottle (or 4-6 16 ounce plastic water bottles)
2 x 10-20 pounds dumbbells
Ab wheel
Hydrate at your Desk
Hydration is essential to your health. You can make a small change to your workday habits by making sure you go through at least one 16-ounce bottle of water every two hours. Put away the soda and sugar-filled juices and instead, stay hydrated with good old fashion water.
Stand up, Stand up, Stand up!
It's easy to get caught up in our work but try standing up and take a deep breath at least every hour. Being stationary in your office chair for hours at a time can be detrimental to your health.
What can we do with those 10 to 15-minute breaks we get every two hours? We have options of simple and quick exercises we can do to keep the blood flowing.
3 sets of 10 reps of push-ups.
3 sets of 10 reps of standing squats.
The trustee ab wheel and do three sets of 10 reps.
Using our 10-20 pounds dumbbells and do 3 sets of 10 reps of bicep curls on each arm.
Exercise improves productivity.
Another important, simple and effective way to stay active and clear your mind during a normal workday is to go for a 10 to 15-minute walk. You'd be surprised at how effective a walk is in helping to solve complex problems or for brainstorming. You can take your walk during your 10 to 15-minute break, or whenever you get stressed out from debugging an error for example.
More Excercises
Some people like going to the gym and working out in the morning before work while others prefer going after work. If you're looking to exercise at work, the above list has some great options. If you'd like to take it a step further, try going to the gym for a quick but intense 30-minute workout during your lunch break around between 12p-2p. This will provide quick boost and reset your body and spirit for the second half of the workday. Keep the workout session short and intense so you won't overexert yourself and end up wanting a nap. If you find that you really do need a quick nap during your lunch break, take it. There's nothing wrong with keeping yourself refreshed!
After your lunch break workout, wait about 2 hours and take another 10 to 15-minute walk. If you have stairs, make a few trips up and down to keep your body in motion and your blood circulating. The bottom line is to keep it moving and don't get caught sitting for hours at a time. You'll be doing your body a huge disservice and compromising your health which can have lifelong consequences. Whatever you do, stay active and take charge of your health. Your body will thank you.
Be on the lookout for the second part of this post where I will talk about the right diet to maximize the benefits of keeping it moving while working lifestyle. Stay tuned for more great posts and tips regarding Tech & Fitness.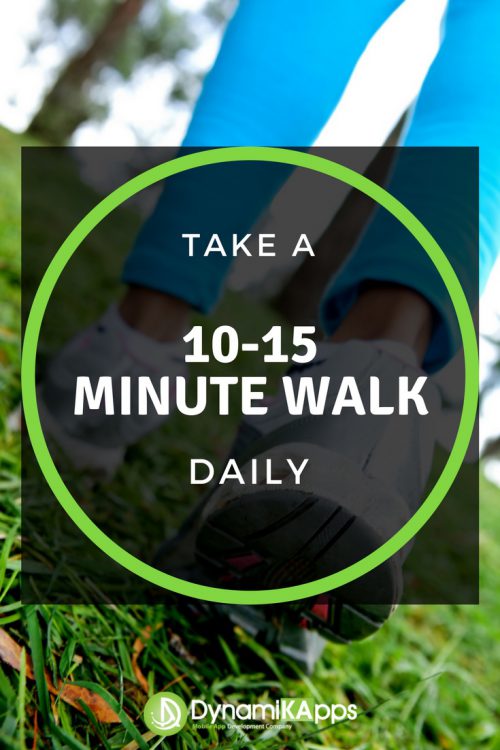 Let's make great things happen!