For thrill-seekers and amusement park enthusiasts, the game-changing ThemeParkHipster ChatGPT Plugin is here to revolutionize your solo theme park adventures.
The pioneering team behind ThemeParkHipster, a renowned blog and guiding light for countless individuals, has created this innovative tool to simplify your solo journey through parks like Walt Disney World, Universal Orlando Resort, Busch Gardens, SeaWorld, or Cedar Point.
ThemeParkHipster's mission has always been to make your solo theme park journey as seamless as possible. This commitment to your experience is now stronger than ever with the introduction of the ThemeParkHipster ChatGPT Plugin, a revolutionary toolset to redefine your theme park adventure.
Introducing ThemeParkHipster's ChatGPT Plugin
Designed for solo theme park adventurers seeking to optimize their experience, this ground-breaking tool delivers real-time data on theme park waiting times around the globe.
With this useful information, you'll be able to perfectly plan your day, bypassing long lines and taking advantage of all the fun activities and rides.
How to Install the ThemeParkHipster ChatGPT Plugin
To install the ThemeParkHipster ChatGPT Plugin, follow these simple steps:
1. Launch ChatGPT and click on "Settings," located in the bottom left corner.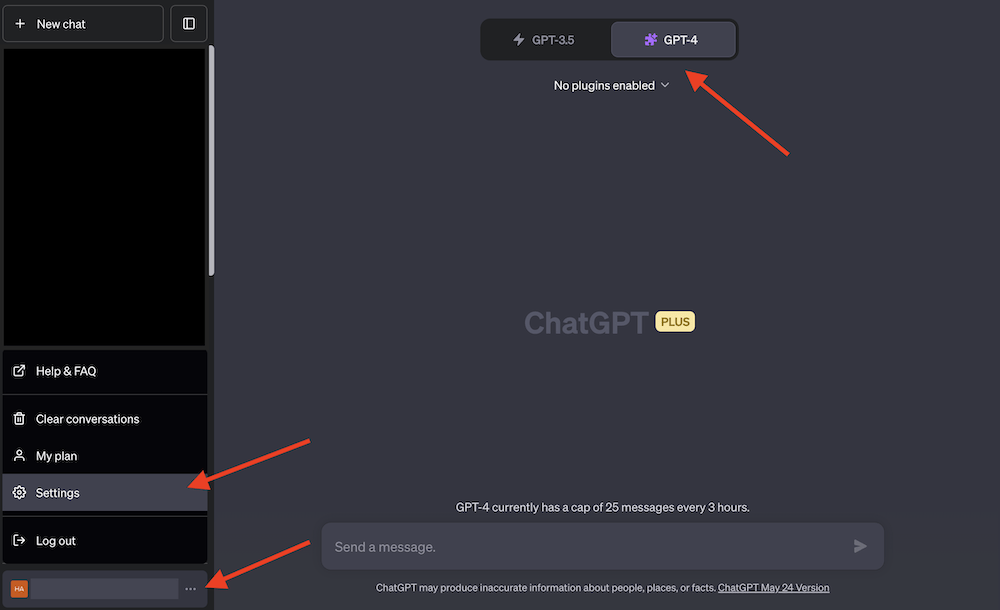 2. Choose "Beta Features" and activate the "Plugins" setting.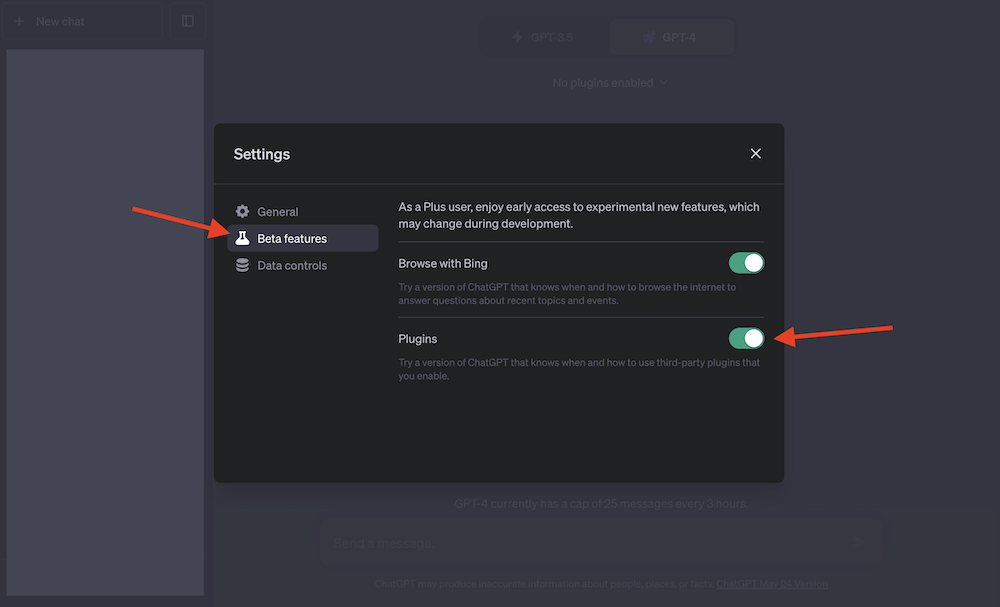 3. Create a "New Chat" and set the ChatGPT model to GPT-4.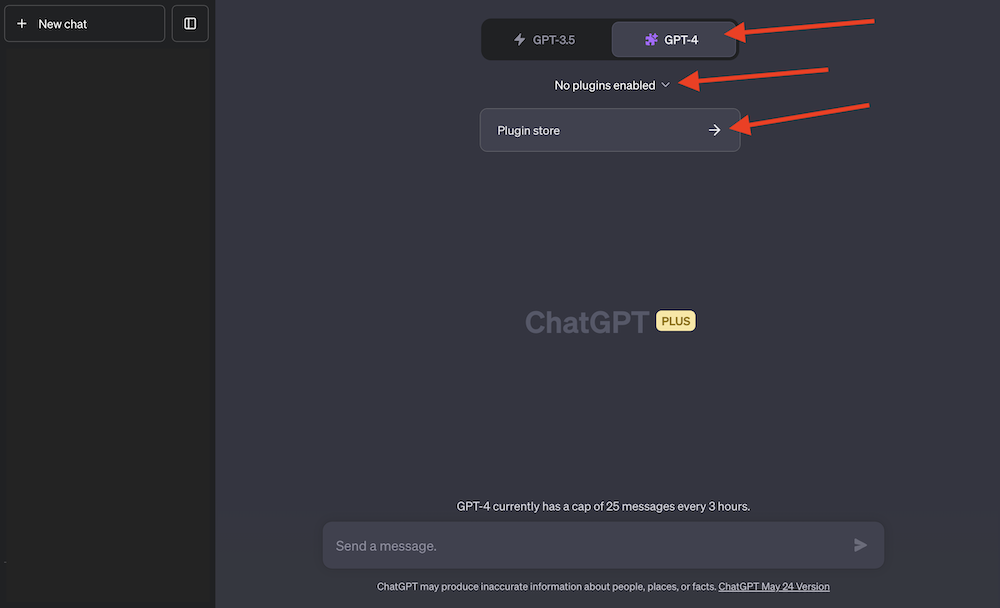 4. Access the dropdown menu, select "Plugins," and proceed to "Plugin Store."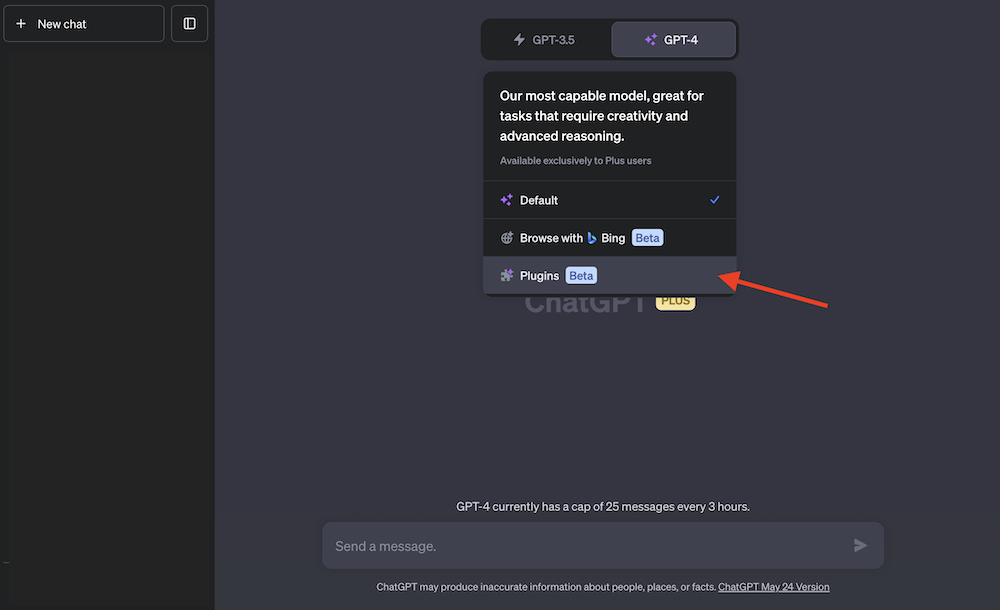 5. In the search field, type "ThemeParkHipster" and hit install.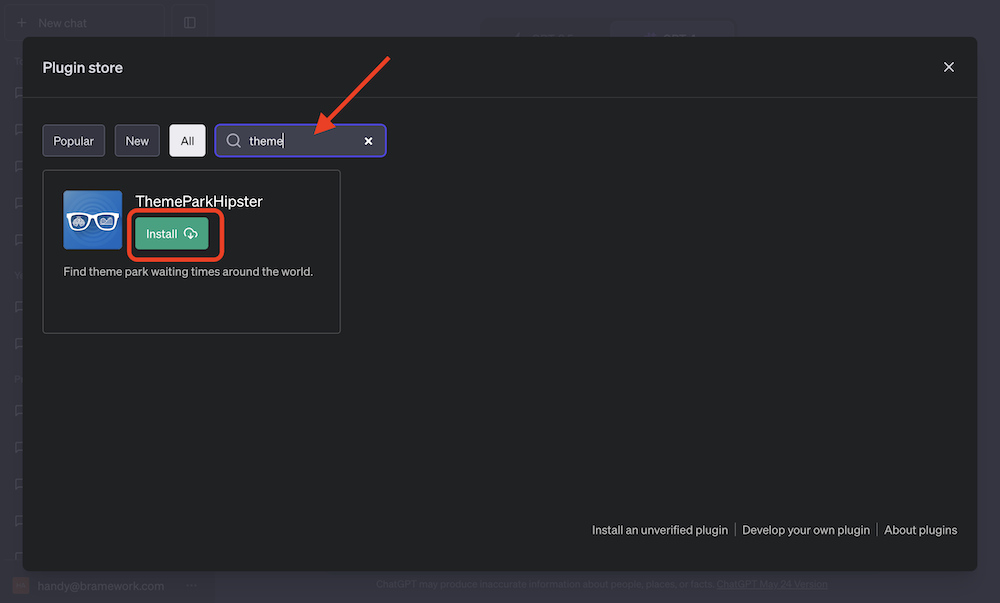 The installation process is quick and should be complete in a few moments.
In case you wish to uninstall the plugin later, simply select it again in the Plugin Store. Please be aware that a ChatGPT Plus subscription is required to install plugins.
Optimize Your Theme Park Experience
The ThemeParkHipster ChatGPT Plugin is more than just a tool—it's a game-changer. By providing real-time insights on waiting times, it empowers you to strategize your itinerary better, maximize your time, and enjoy more of what the theme parks have to offer.
Integrating these prompts into your operations with the ThemeParkHipster ChatGPT Plugin can streamline your theme park journey:
What is the wait time at Universal Studio Florida?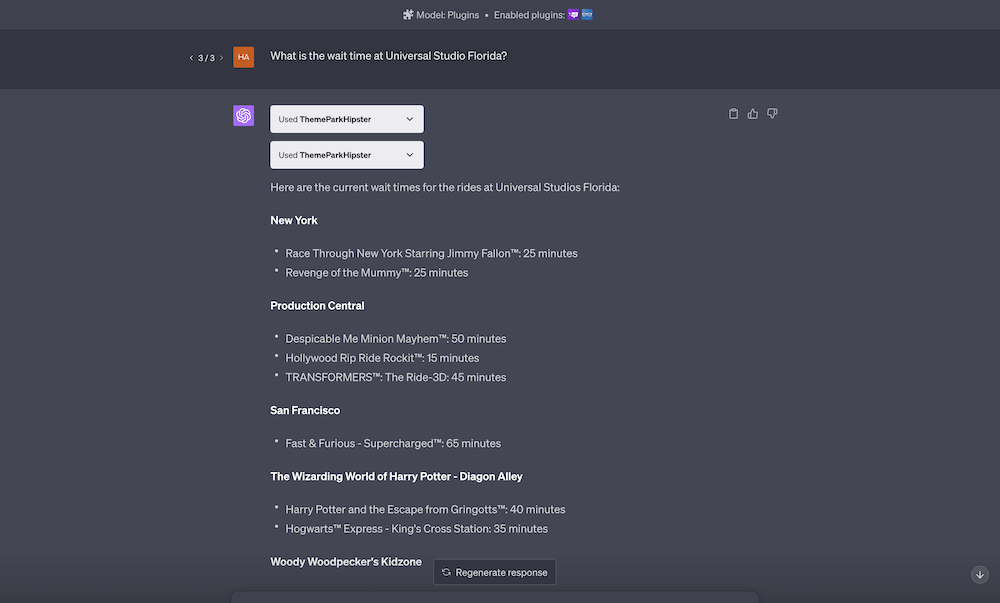 What is the wait time for Mako and Ice Breaker at Sea World Orlando?
Utilizing this prompt, you'll receive specific wait times for exciting rides like Mako and Ice Breaker at Sea World Orlando, helping you plan your adventure with precision.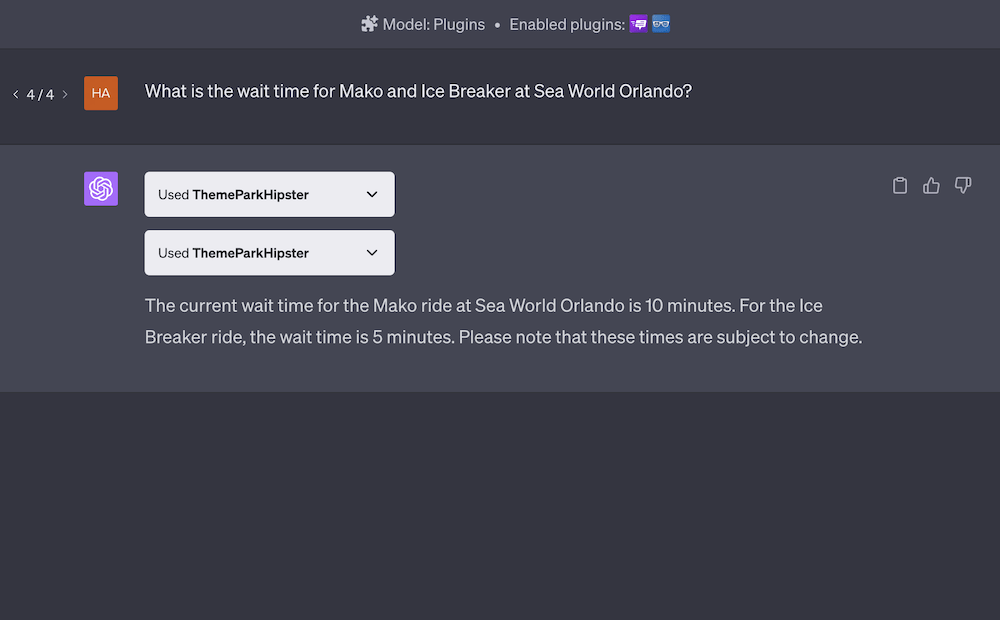 What are the wait times for Universal Studios Hollywood?
This prompt provides real-time data on current wait times across Universal Studios Hollywood, ensuring your time is optimally utilized and your experience is maximized.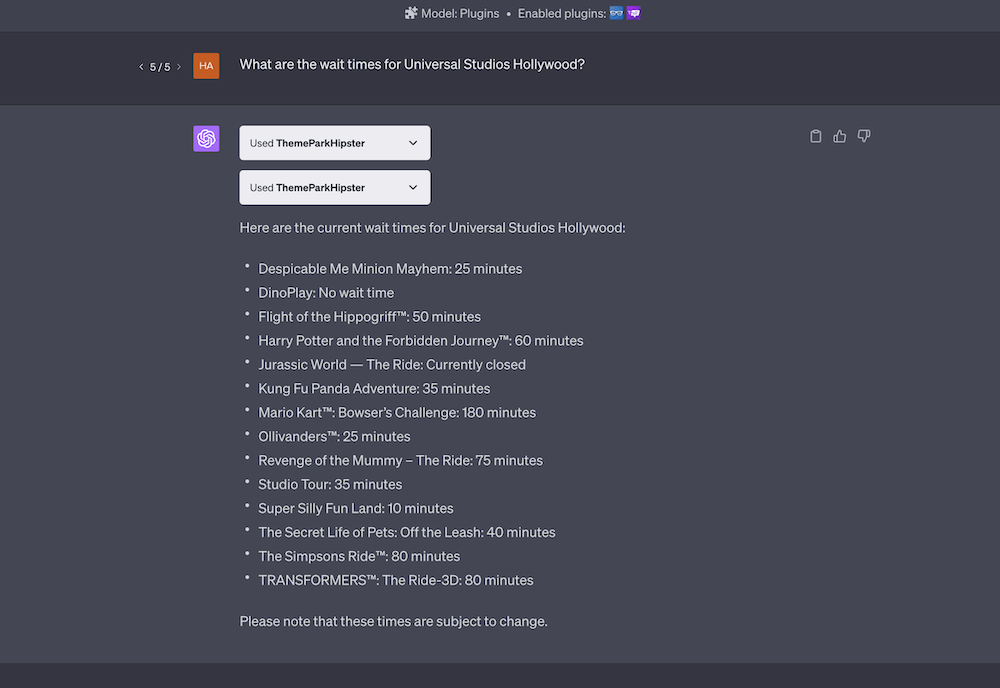 What is the wait time for TRANSFORMERS at Universal Studios Hollywood?
By using this prompt, you can get immediate access to the wait time for popular attractions like TRANSFORMERS at Universal Studios Hollywood, enabling you to strategize your park visit effectively.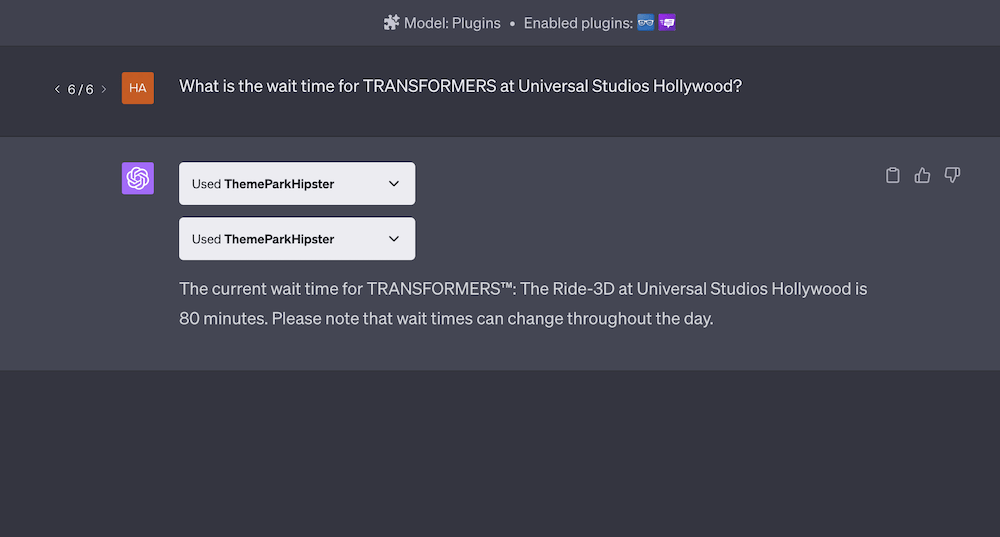 Embrace Your Solo Journey
Vacationing solo doesn't have to be stressful. With ThemeParkHipster's actionable tips and the new ChatGPT Plugin created by the team at Dynamik Apps, you have all the resources you need to plan your adventure, interact with fellow solo travelers, and create memorable experiences.
Remember, in the world of solo theme park travel, having the right tool can make all the difference. Start leveraging the ThemeParkHipster ChatGPT Plugin's capabilities to make your solo adventure more efficient and enjoyable.