Mobile Apps: Why They're an Essential Part of a Business Plan
As a business owner, it's important to realize that mobile apps are not just meant for big, established brands. Many small and medium-sized businesses are following a new, profitable trend of incorporating mobile apps into their business plan to help meet company objectives.
From improving sales to giving the company global visibility, a mobile app can benefit your business in several areas. Here are some of the main reasons you should consider making mobile apps part of your business plan: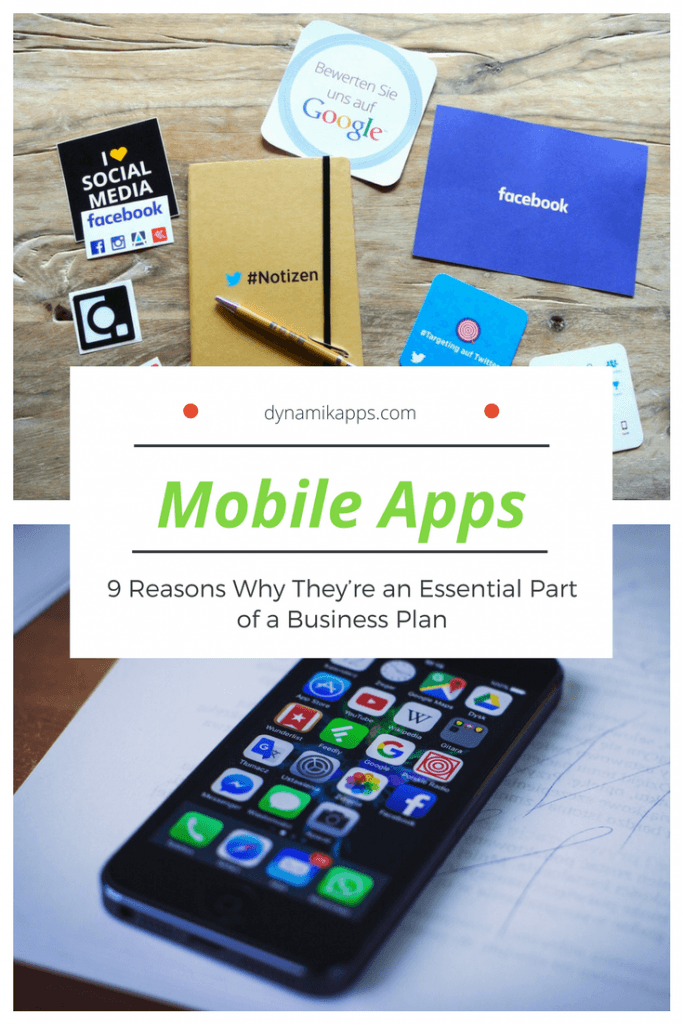 1 – Consumer Feedback
The most important people in any business are the customers. They can make or break the business which is why no business owner should distance themselves from their consumer base.
In essence, you have to dance to their tune.
It's always a good idea to identify the needs of your customers as well as their challenges.
All consumers want seamless service.
They want easy, fast and effective ways to access the businesses products, information, and general services. A mobile app provides all of these quickly, builds a strong customer base, and keeps the business connected to the customer.
2 – Reduced Word of Mouth Marketing
Perhaps this is one of the best reasons to get your business a mobile app. In most cases, business patronage is influenced by recommendations and the referrals of customers, friends, and family. But when your business has a mobile app, it more or less speaks for itself.
If your business app has regular users, there is a high probability that they can recommend it to other potential users. It is important to note here that you must encourage your customers to leave positive feedback on your app.
Acquiring lots of public positive feedback convinces more people to patronize your business.
3 – Business Location
A good mobile app gives your business an independent location. This means you can keep in touch with employees and customers irrespective of their location and time zones. Building a mobile presence can also attract and retain customers for many years to come.
"The world is fast becoming a global village and customers are now expecting most businesses to offer remote services."
Your business should move with this trend to avoid being left behind.
4 – Strengthening Brand Image
The brand image for any business is critical for its success. Without a mobile app, your company might be perceived as outdated and lacking modern trends. In terms of your bottom line, it can create a dent in your overall profits.
The days of relying solely on business cards, fliers, and banners to improve your brand's image are gone and a digital presence is becoming a necessity.
Once you have a mobile app, you'll be able to create a better user experience while decreasing fragmentation and possible bottlenecks. Overall, it's a solid technique to stand out from the crowd of your competitors.
5 – Promotional Business Tool
Once a mobile app is built, the business automatically has a free promotional tool.
Rather than promoting your business through platforms like eBay or Amazon, the presence of a professional mobile app gives your business the platform to promote itself. This option limits how much competition you face and reduces the heavy commission fees you would pay for ads over time.
You can also avoid the advert, or promotional fees hashed out by other sales platforms to help promote your business, saving you money in the long run.
6 – Profit Maximization
The more people are satisfied with your business, the higher the customer demand. And once customer satisfaction increases, profit also increases automatically.
This is exactly where a mobile app comes in.
Even if your business has a website, a mobile app can boosts sales even further and enhance the customer experience.
Remember those annual Black Friday sales?
Most of those online transactions were completed using mobile apps. Customers typically would rather use an app as opposed to calling the store or walking-in to face long lines and angry bargain shoppers.
Big businesses like Dominos Pizza have attested to the fact that their profit rates were maximized after introducing a mobile app to its customers. If your business isn't mobile app-friendly yet, you just found one more reason why it should be.
7 – Gives Headway
Mobile apps give business more value than they usually anticipate.
Apps help you stand apart from your competitors, and they continue to grow in audience size and customer engagements.
The success of these engagements automatically lowers the cost of digital marketing and promotion thereby giving the business a huge competitive lead. With all this, there's little wonder why small businesses are adopting mobile apps to reach their potential customers.
8 – Increased Visibility
Many consumers spend more than five hours on their mobile devices daily. For businesses, this could mean millions of app visits a day and a huge boost in traffic!
Even if the phone users aren't exactly looking for your mobile app online, being "in the way" could serve as a hidden advantage.
The human mind unconsciously records every image, video, or text it comes across every single day. With that said, even though all mobile apps don't record the same amount of engagement, online visibility is vital to a successful business.
Think of it as a digital marketing strategy. When your app is seen by mobile users from all over the world, it gives the business massive exposure other marketing strategies can't provide.
9 – Monetizing
Mobile apps can be converted to money-making avenues.
If an app has simple content which offers something valuable, especially if other similar apps do not, there's a high chance it can generate money.
Monetizing your app can be through paid downloads for premium versions or with ads and partnering.
A mobile app for any business is definitely something to consider given all the advantages they provide. But of course, it's up to the owner or marketing team to make the leap to be able to secure those returns.
We've covered some of the many reasons mobile apps should be considered part of the foundation any business needs to successful, especially if business owners act quickly to get ahead of their industries. As a general rule of thumb, the earlier you get started on your app, the more profitable it can be.
Find out how much it cost to build your app using our, 
Let's make great things happen!
(Original Article Date: May 26, 2020/Updated March 30, 2021)